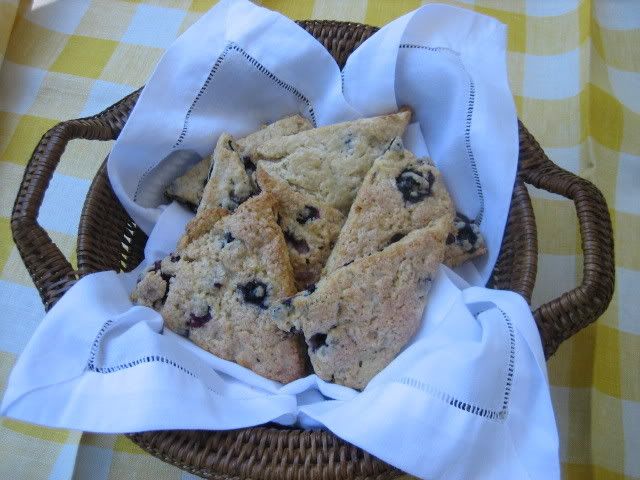 Have you ever tasted the scones that are sold in crappy delis or bakeries? You know the ones I mean, the hard, dry hockey pucks that bear no resemblance whatsoever to their namesake? I don't know where those abominations came from. I started noticing them years ago when they cropped in the corner produce markets all over Manhattan. Blech. For some reason, I always held high hopes for those ready-to-eat scones, envisioning them melting in my mouth like the ones I had had in England and Ireland. Instead, you would end up with what felt like volcanic ash lining your mouth and a cannonball in your stomach.
Forget those imposters. Homebaked scones are the way to go. And they're really easy to make, contrary to what you might think. I make a batch almost every weekend as they are my favorite breakfast baked treat. I love scones because they are not too sweet and are less cake-like than muffins. You can reduce the sugar to almost nothing in the recipe and they still taste good, allowing you to eat with jam if you like. Despite my irrepressible sweet tooth, I happen to like non-sweet things for breakfast. This usually shocks anyone who knows me well. For some reason, sugary sweets on an empty stomach just doesn't work for me. So, scones...
I've tried a lot of recipes but my new standby is one from
The Sweet Melissa Baking Book
. Melissa adds finely ground oats, which I think makes a big difference. She uses heavy cream instead of buttermilk - you could probably sub in buttermilk for a lower fat version (or to skip a trip to the market), but I haven't tried that yet. She also likes to add orange zest for a little zip.
I didn't have any oranges to zest this past Sunday and was starting to regret that as I wanted to make fresh blueberry scones and orange-blueberry is a great combination. But I decided to add cinnamon and I'm happy to report it worked well.
As with pie dough, it's key to keep everything cold, and you'll see my notes below on that.
Here is what kittydad and I enjoyed this weekend:
Cinnamon Blueberry Scones
Adapted From The Sweet Melissa Baking Book
8 Tbs (1 stick) unsalted butter, very cold
2/3 cup whole old-fashioned oats
1.5 cups flour (chilled if possible)
2 tsp baking powder
1/2 tsp kosher salt
1-2 Tbs sugar
1/4--1/2 tsp cinnamon
2/3 cup heavy cream, cold
1 large egg, cold
1 cup blueberries
For the glaze:
2 Tbs heavy cream
1 Tbs cinnamon-sugar
Line one or two cookie sheets with parchment, foil or a silpat.
Cut the butter into 1/2 inch pieces. Put in freezer to chill for at least 10 mins, or while you prepare the dry ingredients.
Put the oats in food processor with metal blade. Pulse to a coarse flour.
Add the flour, baking powder, salt, sugar and cinnamon. Pulse to combine.
Add the chilled butter and pulse until the butter is the size of peas.
I put this mixture in the freezer for about 10 mins at this point, but that's optional.
In a medium or large bowl, whisk together the cream and egg until smooth. Fold in the berries.
With a rubber spatula, fold the flour-butter mixture into the egg mixture to combine. The dough should just barely hold together. Don't overmix and don't worry if it looks a tad dry, as long as you can (gently) squeeze it together to form a ball.
Turn the dough onto a lightly floured board or counter and pat into a flat round disk about 7 inches in diameter. It's okay if the edges look crumbly. Scones don't need to be perfectly smooth and you don't want to over-work the dough.
Using a sharp knife, cut the disk into 6, 8, or 10 triangles. (Melissa says 6 but that makes huge scones. I like 8, or 10 if you want them smaller).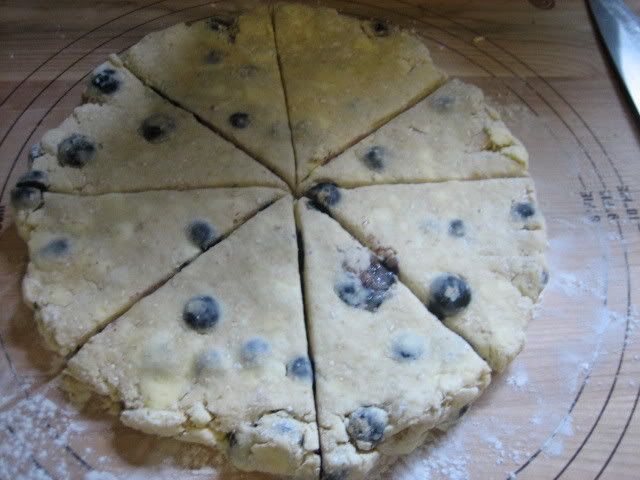 At this point, I like to put the scones on a baking sheet and freeze for at least 30 mins before baking. If you don't have time, then go ahead and proceed with baking as below. (Alternatively, you can flash-freeze them for a few hours, then wrap in saran and bake another day).
Brush tops and sides of scones with the heavy cream and sprinkle generously with cinnamon-sugar. Bake in a pre-heated 350 oven for about 30 minutes, until light golden on top and bottom.
Cool on rack. Best if eaten warm, of course!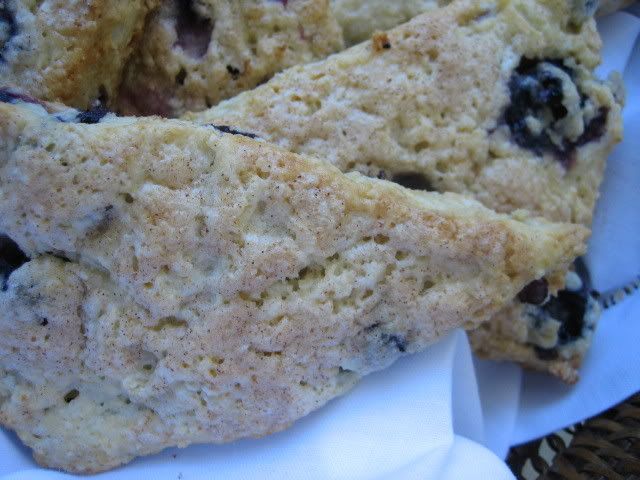 07.20.08 Update: I made these with buttermilk instead of heavy cream this weekend and they were just fine. A bit less rich and maybe a teeny bit healthier. There's definitely a difference in taste but not so much as I thought and the lower-fat content is probably a good thing.