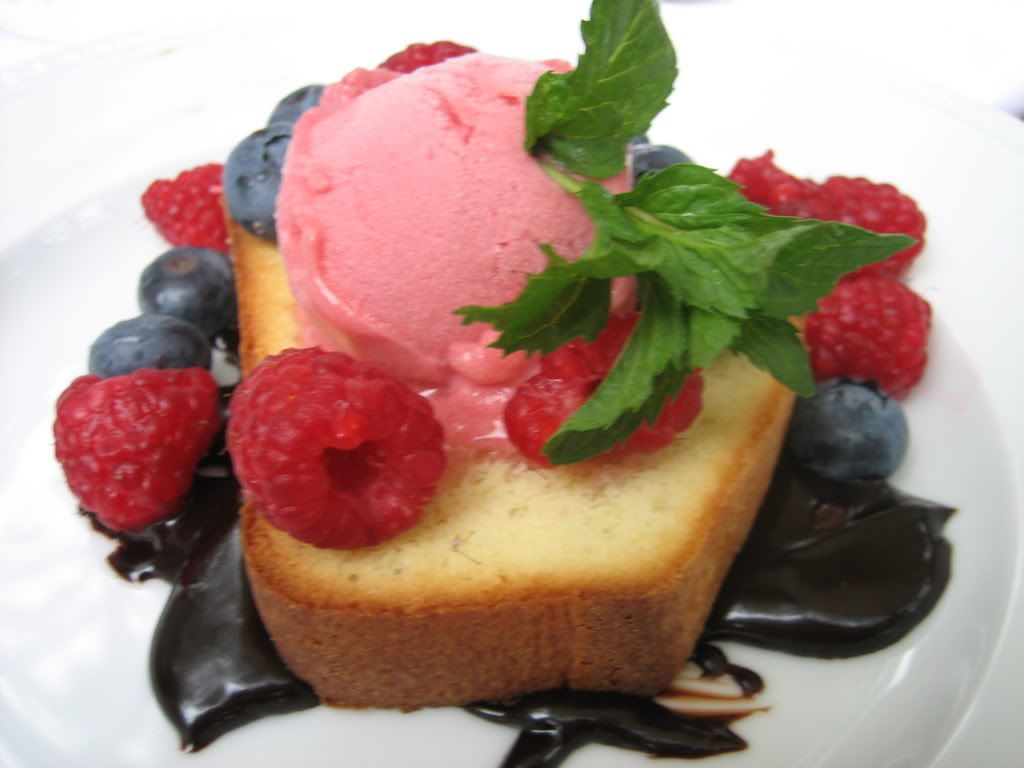 Well, it's all true except for the cheap part. Nothing with fresh berries in it is cheap. But I couldn't resist using that title for a post.
You want dessert fast? You want it out-of-control good? I got it right here for ya.
Here's what you need:
Pound Cake: homemade, store-bought, fresh or stale
Chocolate Sauce: your own, Hershey's or a fancy gourmet brand
Berry Sorbet: I like Haagen Dazs raspberry but any one will do
Fresh Berries: any kind you like, a mix of 2 or 3 is nice for color but not mandatory
Mint Sprig: optional, only if you want to really impress them
What is fast about a dessert with 5 elements on the plate, you say? Well, okay, it's only fast if you happen to have all of those things in the house. But with some advance shopping, you can bang out a photo-worthy dessert in just a few minutes.
I wanted a dessert for July 4th that only involved minimal baking as I was making pies for a July 5th party as well. I wanted it colorful and to include fresh berries which are so amazing at the farmer's markets right now.
I couldn't remember the last time I made a plain pound cake. Banana bread; zucchini bread; pumpkin bread -- those loaf cakes are regulars at our house. But plain, buttery pound cake had somehow escaped me for years. I used a recipe from
The Sweet Melissa Baking Book
. It was good, but I'm not sure I'd make it again. But in this dessert, it really doesn't matter where you get the pound cake from.
I happened to have some leftover hot fudge sauce in my freezer, but again, you can just buy some. Then you pick up some berry sorbet and fresh berries.
When you're ready to serve dessert, toast slices of pound cake. Drizzle warm chocolate sauce on the bottom of the plate, top with a slice of cake, followed by a scoop of sorbet and toss a handful of berries on top. Sure, add the mint sprig if you have it growing in your garden or happen to have in the fridge. Oh my god, you have just created a restaurant dessert in your own home. And it tastes as good as it looks, seriously. Let's take another look at mine, just to tempt you again: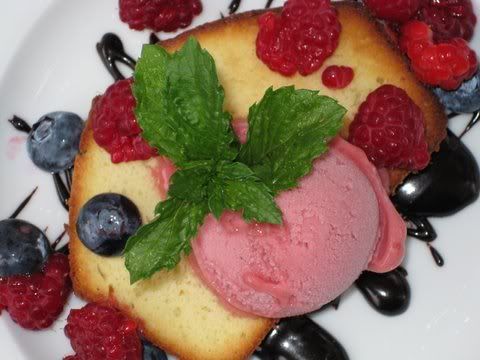 (I am hereby using the Benetton/Gap theory of marketing...show the people the same thing over & over and eventually they will need to own it -- do you need to see it again? Just scroll back up to the top and keep staring at it...you're getting sleepy...you're getting sleepy...you're taking out the loaf pan...you're softening up the butter...you're rinsing berries....there you go, you're on your way to dessert stardom in your own home....)